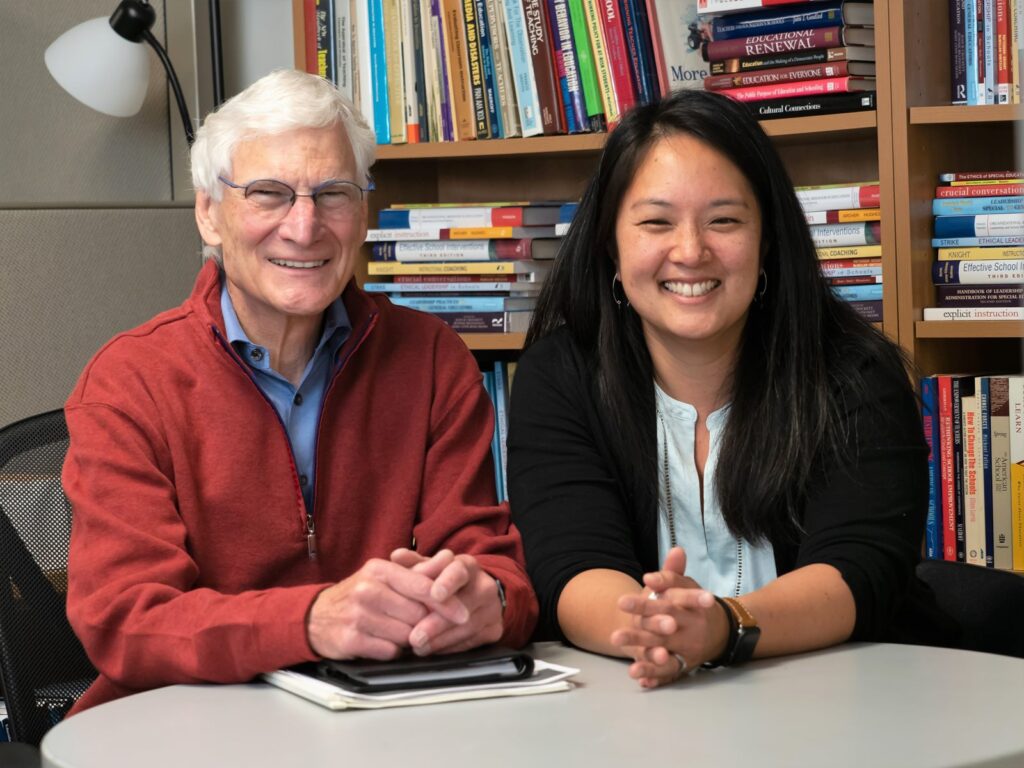 By Douglas Esser
Marking its 10th anniversary at the University of Washington Bothell, the Goodlad Institute for Educational Renewal is changing directors but not direction – revitalizing teaching and helping students become citizens in a democracy.
The founding director in 2008, Professor Tom Bellamy, is moving to emeritus status. Associate Professor Carrie Tzou, incoming director, will continue to grow partnerships that turn research into classroom innovations, said Edward Buendia, professor and dean of the School of Educational Studies.
As part of the transition, the school is planning a symposium in 2019 that includes leaders from other education research institutes around the nation, collaborators such as Washington STEM and the Washington Alliance for Better Schools, as well as UW Bothell's K12 partners and alumni.
Once dean of UCLA's Graduate School of Education, John Goodlad gained worldwide recognition for his book, "A Place Called School." He had a view of schools focused less on measurement and more on building communities and partnerships in support of student learning, Bellamy said. Goodlad's research led to a network of school-university partnerships focused on continual renewal of teaching and teacher education.
Goodlad's vision remains the core of what the institute does, Bellamy and Tzou said, which makes partnerships with school districts a priority.
"I think the age of universities coming in and having all the expertise and telling districts what's best for them is over," Tzou said. "We need to include more voices in our work."
The focus of the projects and partnerships remains on students, Bellamy said. "All of what we do is driven by what K12 schools and community organizations do to support kids."
Another Goodlad theme is that schools have a particular mission in a democracy. "School is about more than learning technical skills," Bellamy said. "It's building the capacity to be citizens in a democracy, with a focus on social justice and inclusion."
Goodlad joined the faculty at the University of Washington in 1985 and founded the Center for Educational Renewal. After retiring in 1991, he formed the Institute for Educational Inquiry, a nonprofit that provided some of the initial funding in 2008 for the Goodlad Institute for Educational Renewal at UW Bothell.
Bellamy had been dean of the School of Education at the University of Colorado at Denver and came to UW Bothell in 2004. He was already in Goodlad's network, and Goodlad wanted him to carry on the work at an institute within the University. Under Bellamy, the institute evolved into an incubator for programs and projects, including the following UW Bothell initiatives:
The Expanding Capacity for Special Education Leadership program for special education administrators, in which Bellamy will continue working
The Leadership Development for Educators principal preparation program that Bellamy started with Brad Portin, now professor emeritus
Story time STEM research in teaching elementary math through storybooks, led by Associate Professors Alison Hintz and Antony Smith, who are collaborating with libraries and districts statewide
STEM projects and partnerships, including Tech Tales, Tzou's workshop project with schools and libraries to make science, technology, engineering and math education accessible to underrepresented students
"The community partnership is a thread that runs across all the projects and is something I think we'll leverage in the future," Tzou said.
The institute also is an example of the way faculty work across boundaries, said Tzou, who started at UW Bothell in 2008 and has been a principal investigator with Goodlad since 2015.
Tzou is continuing to build partnerships that impact classrooms, noting that all of the issues that Goodlad worked on are still relevant today.
"My dream would be that the Goodlad Institute is involved in both research and partnership-building that results in transformational education for communities where they get to design their own educational futures," Tzou said.
A celebration of Bellamy's leadership of the Goodlad Institute is also planned for early 2019.