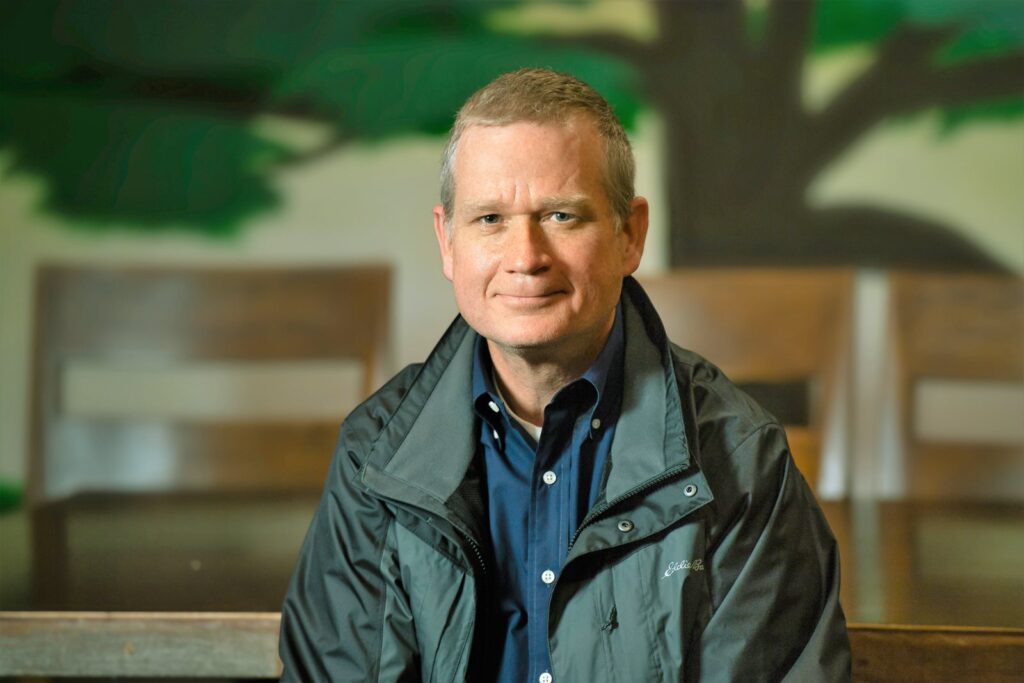 By Douglas Esser
Erik Anderson, a stay-at-home dad with some college experience, decided to go back to school to relaunch a business career. He is now pursuing a bachelor's degree at the University of Washington Bothell, where he found a rigorous curriculum, energizing students and a supportive accounting club with members who pull each other up.
Anderson grew up in Olympia near the Capitol and started at Pierce College right out of high school. But he had a job at the same time and had some success in sales, which pulled him away from school. Then he got married. They had kids.
"I decided to stay home with the kids, and 10 years later, here I am," said Anderson, noting that his wife, who has an accounting degree from the Foster School of Business at the UW in Seattle, works outside the home.
With one child now in college and two others in high school, Anderson decided to reboot his business career. He started at Bellevue College, where he four-pointed his accounting classes and really enjoyed them. He also enjoys his classes at UW Bothell, although "the rigor here is a lot tougher."
At UW Bothell, Anderson is learning a different way of thinking. "I came here, and it's completely changed how I look at things," Anderson said. "I used to look at things directly, and it seems now I can look around things. I see more of what's there and anything that would be causing something to be what it is."
Taking courses with younger students has given him a lot of energy, Anderson said. They're faster on the technology in group meetings and projects. "I think what gives me the energy is trying to keep up with them," he said.
Anderson is on track to earn a Business Administration degree in Accounting in the fall of 2019. He's focused on the degree — and the daunting CPA exam that follows. That's what his peers are doing in Beta Alpha Psi, the club that's a chapter of the professional organization for accounting and finance majors.
Anderson's involvement in the club has been a crucial part of his experience. Beta Alpha Psi helps accounting students transition into CPA certification and careers. Students can submit resumes and receive help with job applications. Representatives from accounting firms attend club meetings and networking events, offering advice about the industry and often recruiting students into their firms.
"The leadership in that club really pulls the kids through, helping them with questions and giving them support so it's not such a scary thing," Anderson said, who is an officer in the club. "It's neat to be able to really pull the younger students through."
As part of his duties, Anderson is also responsible for the club's Volunteer Income Tax Assistance program. He coordinates volunteers, who will help prepare tax returns for members of the community this April at the new United Way Benefits Hub on campus.
To others thinking about taking a second run at college, Anderson said the time flies by and the change it makes is priceless.
"The value you get from just going to school — let alone what you get afterward — is incredible," he said.
After he graduates and becomes a CPA, Anderson may expand his current one-client bookkeeping business. Anderson would prefer to audit at a mid-size firm, big enough for interesting finances but not so big "that you're a number."
"I like taxes," Anderson said, "but I'm more interested in auditing because you have experiences with people and communicate a lot more. You have a relationship."