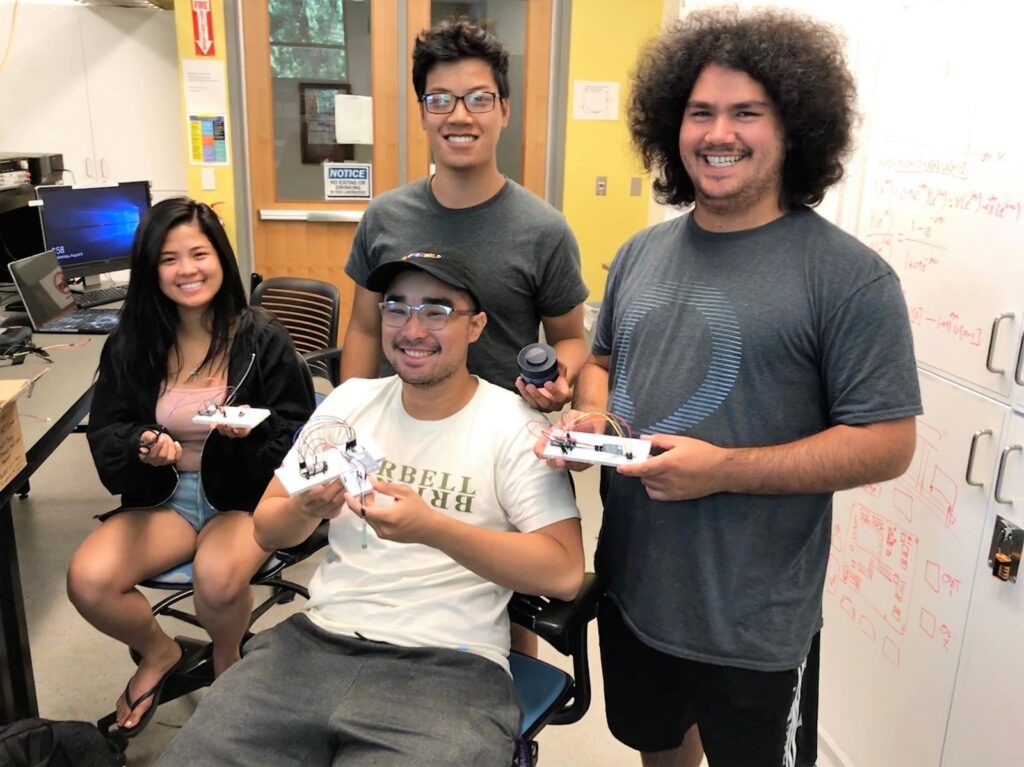 By Douglas Esser
The University of Washington Bothell has leveraged several student engineering and computer science capstone projects to advance innovative therapies for stroke patients.
The latest group of students, under the direction of Professor Pierre D. Mourad, designed a high-tech glove that patients could wear as they retrain their injured brain to make hand and arm movements. That training would occur within augmented reality (AR) or virtual reality (VR) contexts previously developed at UW Bothell.
"There's pedagogical as well as research power in having capstone teams advance segments of a given research agenda," said Mourad, a professor in UW Bothell's School of Science, Technology, Engineering & Mathematics and also a UW professor of Neurological Surgery. "My job is to define and manage those pieces as well as make sure they come together."
The glove, with battery-powered sensors on the fingertips and electronics to record movements, might work like this: The patient wearing the glove starts by touching a button with a built-in radio frequency identification tag that records the motion. Then the patient moves the gloved hand to touch a target. Each time the motion is repeated the device tracks how far the hand moves and how far it might vary in one direction or another.
In addition to the physical therapy, which a patient could do at home, the glove generates data that a therapist or doctor could analyze to see how the patient is progressing.
"It's important these devices present data the medical provider can use and understand," Mourad said.
The work this summer by UW Bothell Electrical Engineering seniors Tram Le, Kevin Phan, Derek DeLizo and Kevin Chung extended stroke therapy research from the past two years. Mourad is pursuing the research with colleagues who include Jody Early, associate professor of Nursing & Health Studies, and Rafael Silva, a graduate student and STEM researcher. Photo: Pierre Mourad advises Tram Le.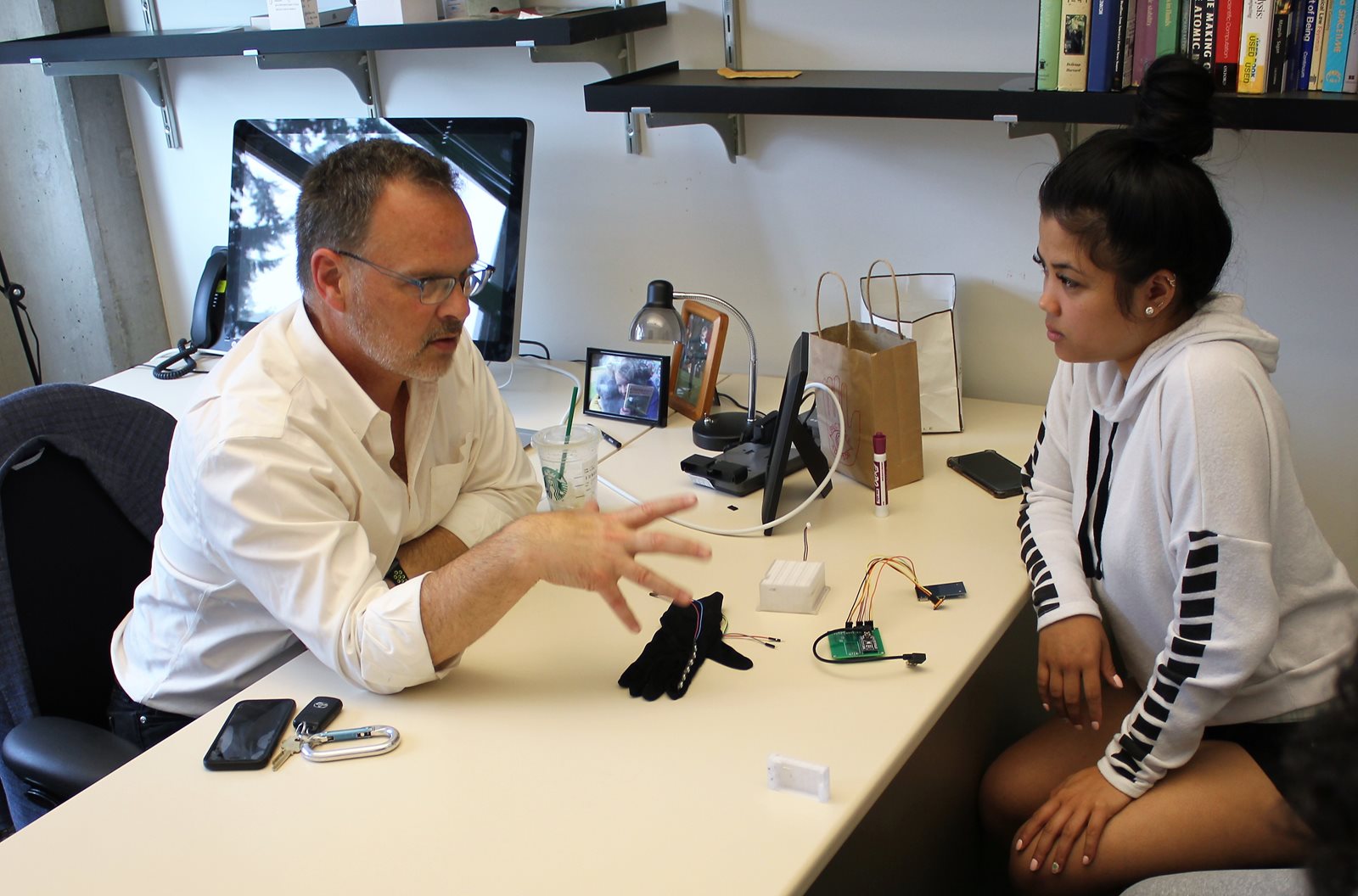 Previous students developed Pheeni, a small robot that stroke patients repeatedly tap as it moves along a pathway designed to induce therapeutic motions. Earlier student groups developed AR/VR programs that have been presented to doctors at Harborview Medical Center in Seattle.
As one of the final classes for seniors, the capstone sequence gives students a hands-on team project with challenges they would likely face on a job. This includes the inevitable setbacks when things fail to come together as expected. That was the case in August when Mourad guided the glove team through a roadblock.
"One of the exciting educational aspects of capstones is when we reach this stage," he said. "The whole time we've been building toward this crescendo of effort where they're under the gun. There's stress — trying to make deadlines, making decisions sometimes with little sleep, all while grinding against genuine uncertainty. That's the real world."
After adding a camera to the hand-tracking system, the team successfully completed a prototype glove for its capstone project and graduated.
The capstone is where "they come through the flames," Mourad said. "They will come out battle-hardened, tested and confident, and that's what employers are looking for."
Current students involved in related work are Alex Lee, a junior in Computer Science and Software Engineering; Mark Frankle, a senior in Computer Science and Software Engineering; Leon Alschitz, a pre-major student; Matan Arazy, a senior in Biology; and Nina LaPiana, another Biology student working as a research associate at Harborview. LaPiana has established the Institutional Review Board-approved studies that involve Harborview patients in collaboration with Dr. Aaron Bunnell of Rehabilitation Medicine.
Mourad anticipates that this research will produce research papers and grants that will allow more students to engage in AR/VR stroke therapy projects and learning experiences. "What's most important is that students take what they learn and apply it to a compelling problem with obvious social impact," he said.