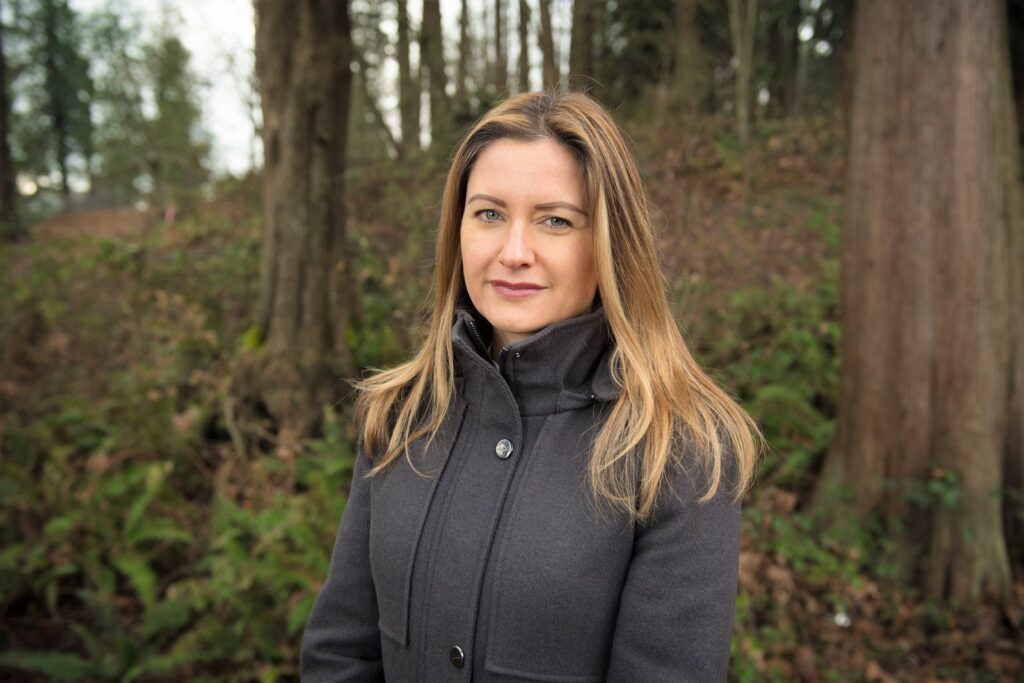 By Douglas Esser
As an instructor of environmental studies for the past eight years at the University of Washington Bothell, Jennifer Atkinson has seen students become emotional, talking about melting ice sheets, dying oceans or mass extinctions.
Their voice cracks. They can't talk, as they hold back tears of anxiety and grief. It's an awkward moment, so Atkinson would patch over the incident and move on.
"You treat those moments of raw emotion as a detour in the conversation, as something we have to steer around to get back to the real work," she said. "That led me to wonder, 'Instead of treating that as a diversion, what if we took that as our starting point?'"
That's how Environmental Grief & Climate Anxiety: Coping in the Age of Consequences became a seminar at UW Bothell.
"Within environmental studies we ask students to grapple with some really devastating material. It's very rare that anybody provides them with tools or resources for managing the anxiety and grief that material awakens," Atkinson said.
The course is helping student Camilo Acosta address repressed feelings.
"For the longest time I didn't let myself feel the pain and anguish that was building up due to the destruction of our earth. I pushed it to the back of my mind, and there it festered. I have changed since then, accepted these feelings and taken steps to deal with my grief — one of them being taking Dr. Atkinson's seminar," said Acosta, a biology major graduating in June 2018.
Atkinson also has heard from students directly affected: Pacific Island students whose homeland is threatened by rising oceans, students whose South American families were impacted by deforestation and Chinese students who grew up checking an air pollution app to see if they should wear a mask outside. Washington natives tell stories about choking on smoke last summer from massive wildfires.
Because of its focus on environmental justice, the class is also a wake-up call for students from more insulated circumstances.
"It's helped them understand that the worst effects of climate change are felt by communities of color, indigenous people, people in poor communities in the developing world — the very people, ironically, who have contributed the least, historically, to the carbon emissions that are driving climate change," Atkinson said.
Atkinson, a lecturer in the School of Interdisciplinary Arts & Sciences, launched the three-credit Environmental Grief elective in winter quarter as a pilot. Every seat filled nearly instantly. Atkinson also has heard from other professors and environmental organizations asking how to address climate depression. While it is increasingly discussed at conferences and workshops or incorporated in other classes, as far as Atkinson knows, this may be one of the few college courses dedicated to the subject.
Atkinson, who received a doctorate in English, draws on literature, art and philosophy to build a narrative that finds meaning in the face of loss. Students use creative writing and poetry. The class meets once a week for two hours. Students also meet in groups outside of class, and each student is required to have a regular contemplative experience outdoors, whether in a park or their own backyard.
Linnea Stavney, a pre-major student who will graduate in 2020, feels a spiritual link.
"As an aspiring scientist, one of the most personally relevant pieces of advice is to connect science and spirituality. Often they are kept very strictly separate, which is ultimately detrimental to the discipline and very trying on the people who work in that field," Stavney said. "Protecting the environment is and should be a very emotional and personal matter, and the strong feelings that rise during the battle can help move us forward."
For their final project, students create a Climate Change Survival Kit that can take the form of a website, video, handbook or other creative concept. Among the group projects in her current seminar are a children's book to suggest how parents might talk about climate change with children, a weekend retreat for activists and community members, and a time machine mental exercise in which students "go back" and talk to their ancestors from 100 years ago about the impacts of industrialization.
Atkinson hopes to explore Environmental Grief again next winter quarter with a new group of students.
"We have to give them some kind of foundation to work from and not just expect they're going to be able to deal with it on their own," she said.
But the course is more than a support group, she said. "It gives students strategies to build resilience so they stay engaged for the long run and don't become overwhelmed or retreat into paralysis and despair."