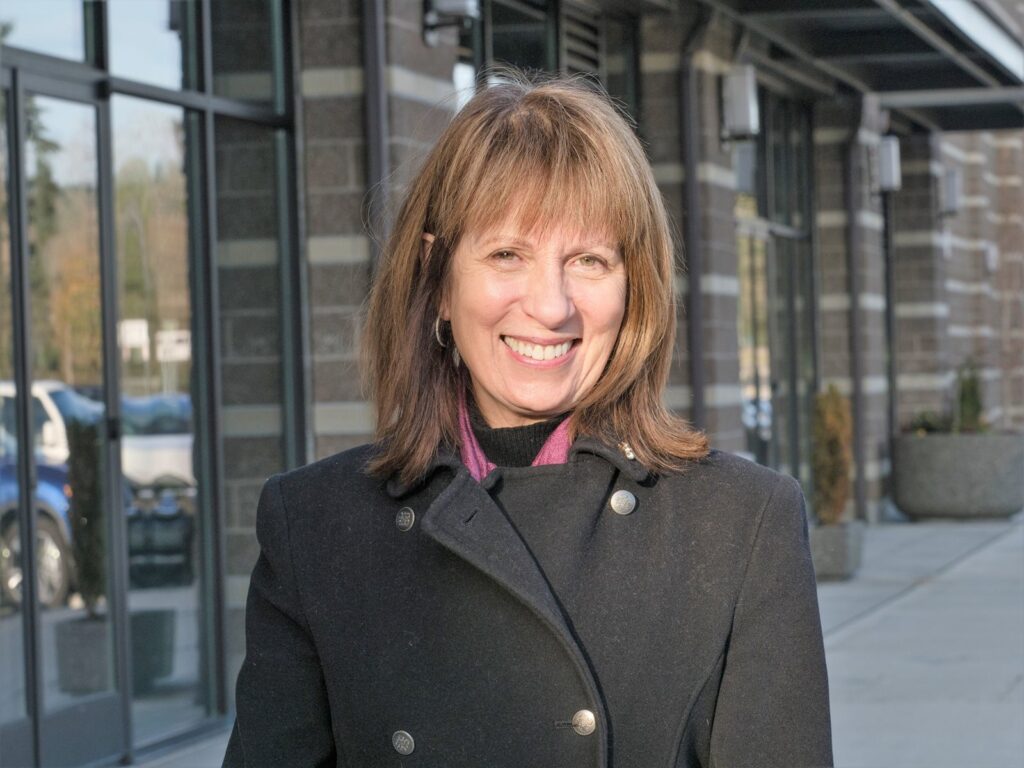 By Zachary Nelson
For Paula Waters, a UW Bothell alumna, serving the community is her full-time job. Much of that works happens these days through her seat on the Woodinville City Council — and she was just re-elected in 2017 to her second term. Waters also was a member of the Woodinville Planning Commission and was elected chair three times.
Waters graduated with a bachelor's degree in liberal studies in 1998 and attributes her strong commitment to public service to the education she received.
"I took an urban studies class at UW Bothell, and it sparked my interest in cities," she said. "The class helped me learn what makes a city great and how it can function successfully."
In the four years she has already served as a city council member, she has focused on regional transportation, solid waste management and salmon restoration, among other issues.
"I never knew I wanted to be in politics, but I have a natural tendency to be curious about people and a need to serve the community," she said. "I have great concern for the environment as well, and it is one of my top priorities when it comes to policymaking. It's important to keep water sources clean, healthy and alive."
Waters describes herself as a lifelong learner and believes that exploring new ideas has helped her to continue to grow as a person and a community leader.
"I am proud to be a UW Bothell alumna. The University taught me the value of learning," she said. The ability to be open minded is what has allowed the city council to make progress on some key issues facing the city, she added.
"One project I am excited to have helped create is the 'Woodin Creek' housing development, located on Woodin Creek. This is our first centralized housing unit in downtown Woodinville, which we hope will add density and commerce to the area."
Waters understands that with development comes the risk of pollution and negative consequences to the ecosystem. She wants to make sure that this expansion is done in an environmentally friendly way.
"One stipulation that we have for this building is that the developers have to make the stream it's located on 'salmon friendly,' meaning that they pay attention to the stream in a way that promotes salmon life," she said. "They will accomplish this by adding foliage and making sure the water stays clean."
Looking ahead, Waters says she wants to be more involved with her alma mater. "UW Bothell has become such a robust University, and as a city council member and alumna, I hope to contribute to its continued success."