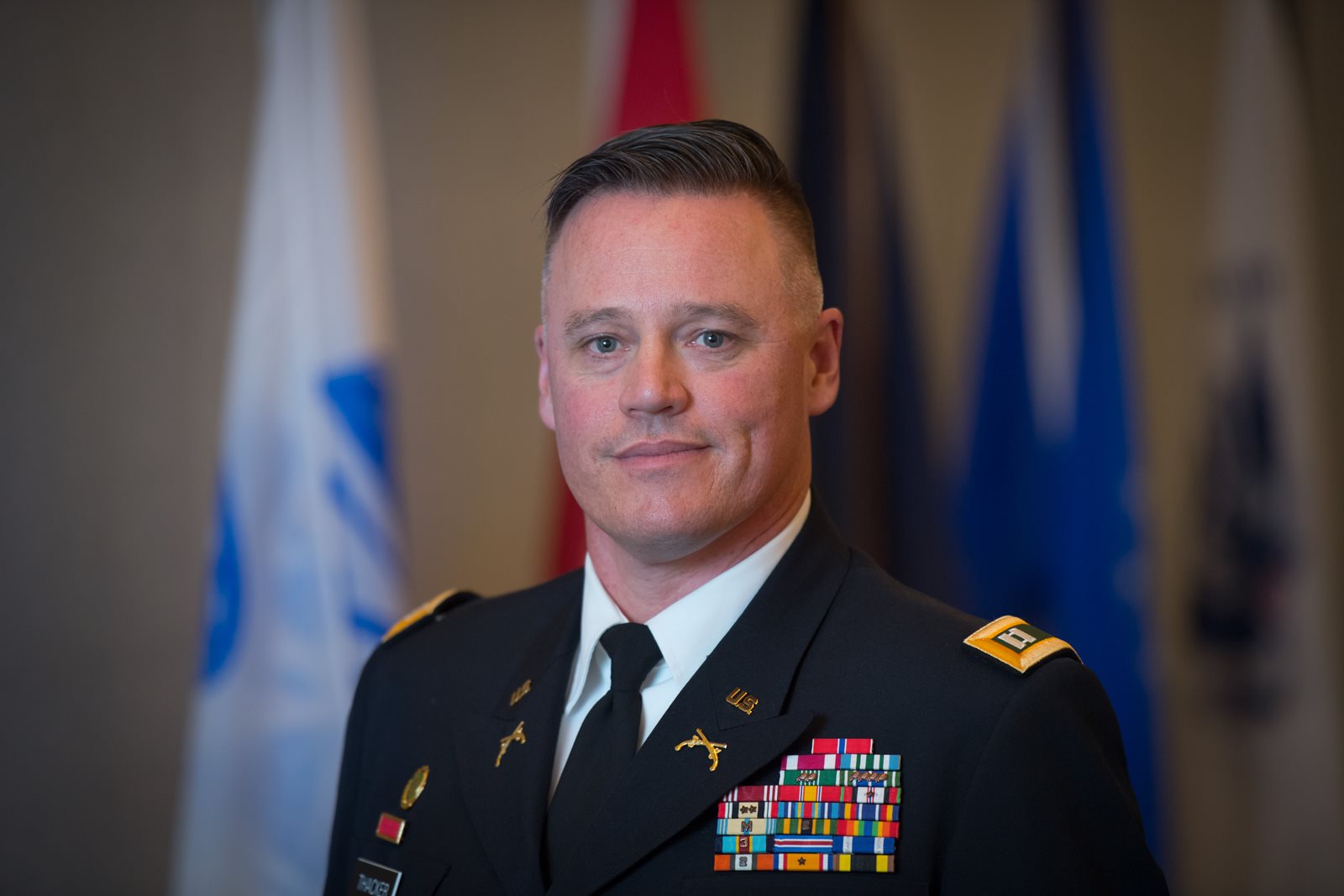 By Douglas Esser
When you see Army National Guard Capt. Aaron Thacker – standing tall in his dress blues, service medals on his chest, talking intellectually about culture – you're also looking at a man who was "not the most inspired student."
"College took me longer than normal. Once I got to the University of Washington Bothell I got much more focused," said Thacker, who earned a liberal studies degree in 1998. "I took classes because I enjoyed them, not because I was focused on a career afterward."
Thacker said his education gave him critical thinking skills that have served him in an Army career in public affairs and military policing that included deployments in Iraq and Afghanistan. He was the keynote speaker at the Nov. 9, 2016, veterans reception at the North Creek Events Center on a campus far-removed from the Bothell business park classrooms where he majored in culture, literature, arts (CLA).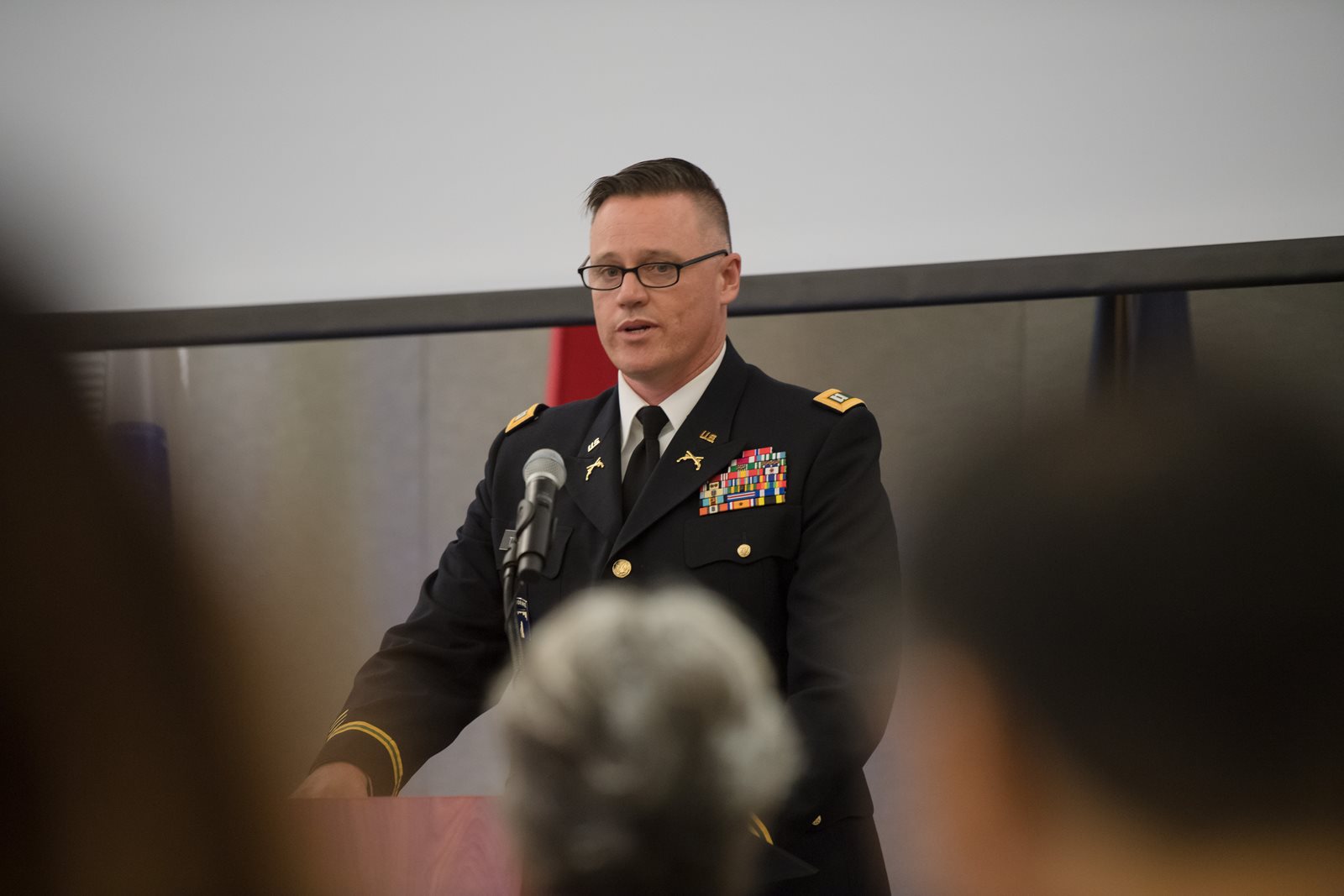 Photo: Capt. Thacker speaking at veterans reception (Marc Studer photo)
"I liked cartooning back then," said Thacker. So he went to the student newspaper, the UW Bothell Commons, and offered to draw editorial cartoons. Sure, said the editor, handing him a camera, if you write stories and take photos too.
"I knew nothing about journalism, but I kind of fell in love with it," Thacker said.
Writing stories at the same time he was taking CLA classes gave him an insight into communication.
"It's not about how good of a writer you are, it's about how good your ideas are," said Thacker. "I'm looking for that value, digging it out."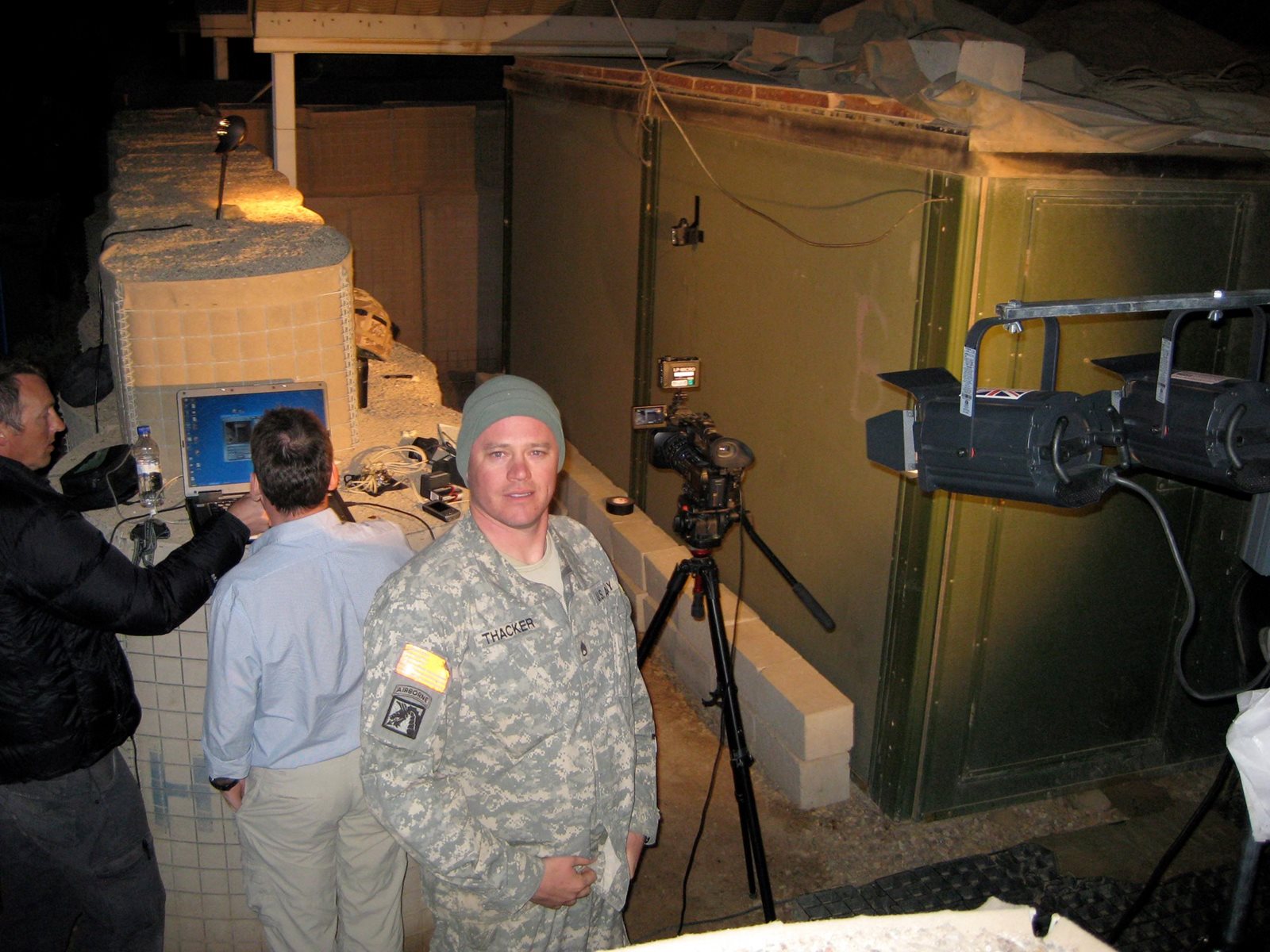 After graduating and working for a time in a cubicle, he came across an Army recruiting flyer that showed a guy rappelling with a camera. "That's for me," he thought.
Photo: Thacker on duty in Iraq. (Contributed photo)
Thacker served six years in the Army as a photojournalist with stints at Fort Bliss, Texas, Norfolk, Virginia, and a tour in Egypt. After returning, he joined the Arizona National Guard. The Guard sent him to Iraq for a year. When he returned he attended Officer Candidate School. He was commissioned as a military police officer and deployed to Afghanistan.
Thacker said "magnificent" professors – Jane Decker, Constantin Behler and JoLynn Edwards – changed the way he approached the world. In Iraq, he realized the enemy was not the Iraqis but a component of Iraqi culture intent on imposing a strict way of life on other people.
"That's what the enemy was. It was an idea, not a people," he said.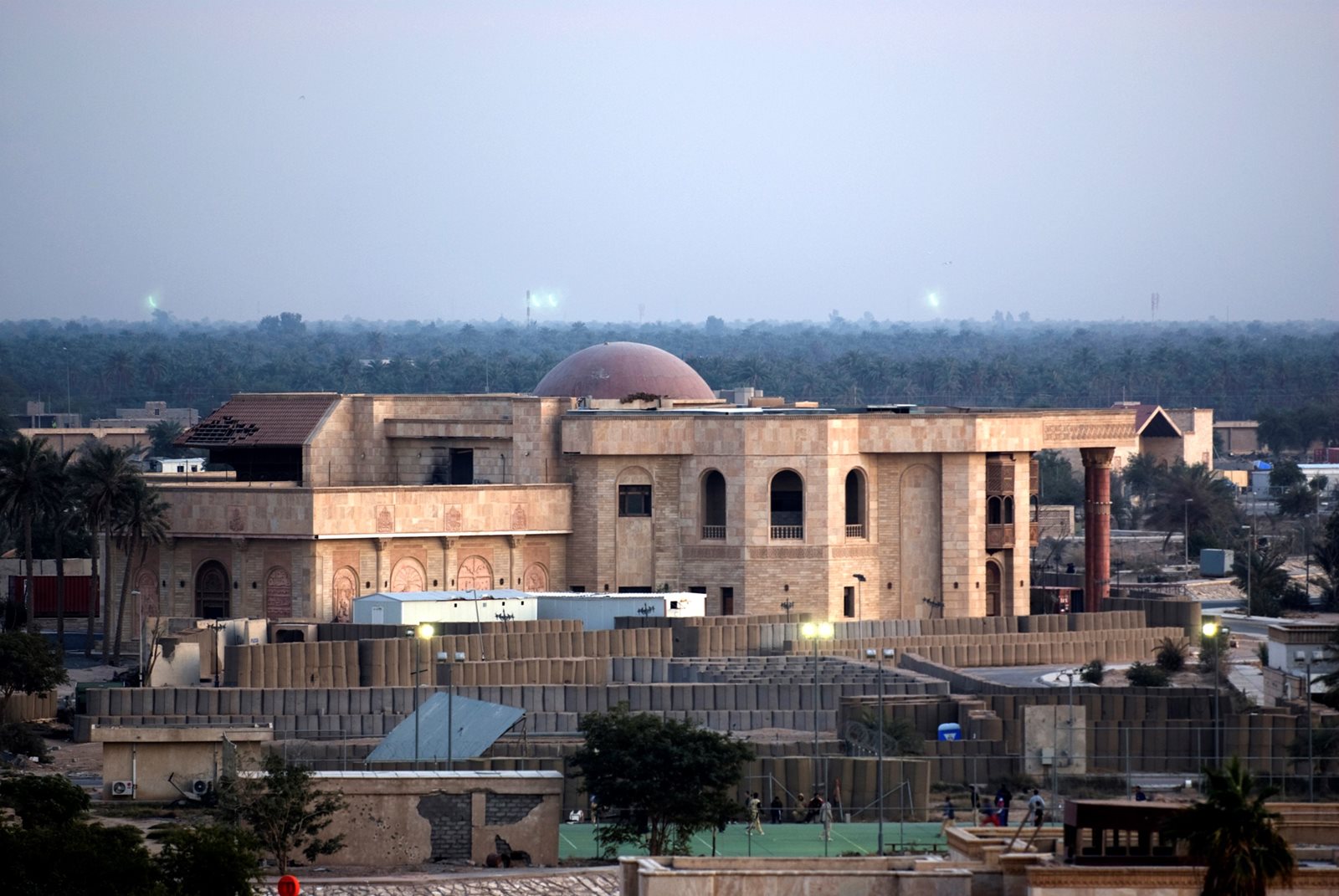 That's the value of thinking critically. "It's more of a process, not a lesson," he said. "It's more like a switch you have to turn in someone head. It's how you don't get stuck in an ideology."
Photo: A former palace of Saddam Hussein (contributed photo)
Thacker remembers Edwards' "rhetorical machine" – the structure for good speech and writing created by ancient Greeks and Romans: thesis, narration, evidence and conclusion. Thacker does his best to employ it whenever he can.
Professor Emerita Edwards said it's a pleasure to have made an impact. She taught interdisciplinary classes that looked at what it meant to be civilized.
"CLA gave the students a particular lens to see what that meant throughout history and various cultures," she said.
Now commander of the 856th Military Police Company, Thacker works full time for the Arizona National Guard in Tempe, as an administrative officer who plans training and coordinates logistics for the "weekend warriors."
Thacker keeps an eye out for Husky alumni in Arizona and supports UW Bothell and the style of education he received. That's his advice to students: Don't go to college thinking of a particular job.
"Let education do its trick," he said. "If you believe in the process of education you will figure out what you need to do. Trust that learning how to be a better thinker – critical thinking – it will open doors for you."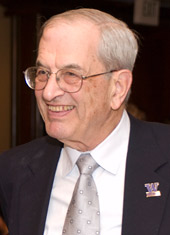 Thacker's grandfather, Max Gellert, right, who died in 2012, made the first donation to the UW Bothell's Founders Fellowship and was a longtime member of the advisory board. He received the 2011 UW Bothell Legacy Award.