By Douglas Esser
For University of Washington Bothell researchers working on a new blood pressure medical device, doctors and patients are never far from their thoughts.
That's doubly true for Manuja Sharma, left, an electrical engineering senior and winner of a $7,500 fellowship who travels twice a month to a Los Angeles clinic for treatment of Hodgkin lymphoma, a cancer of the lymph system.
While carrying a full student load, Sharma is a research assistant with Hung Cao, assistant professor of electrical engineering in the School of Science, Technology, Engineering & Mathematics. In less than a year, Sharma has been the lead author on one peer-reviewed conference paper and co-authored another. She's now preparing a paper for a journal – remarkable achievements for any undergrad.
Graduating next summer, Sharma says her Washington Research Foundation Fellowship not only helps with expenses, but the recognition also should help her application for a Ph.D. program. Sharma is the first UW Bothell student to win a prestigious Washington Research Foundation award, notes Carolyn Brennan, assistant vice chancellor for research.
With Cao, Sharma is developing a blood pressure measuring device that would be more accurate than the standard cuff that inflates on the upper arm. The new device also would be able to collect and transmit data to other medical technology. The goal is to help high blood pressure patients who need constant monitoring.
Sharma explains the device could be worn like a wristwatch or armband. A sensor records the heartbeat and an electrocardiogram (ECG), which measures heart electrical activity. Blood pressure is calculated from the relationship between the two measurements.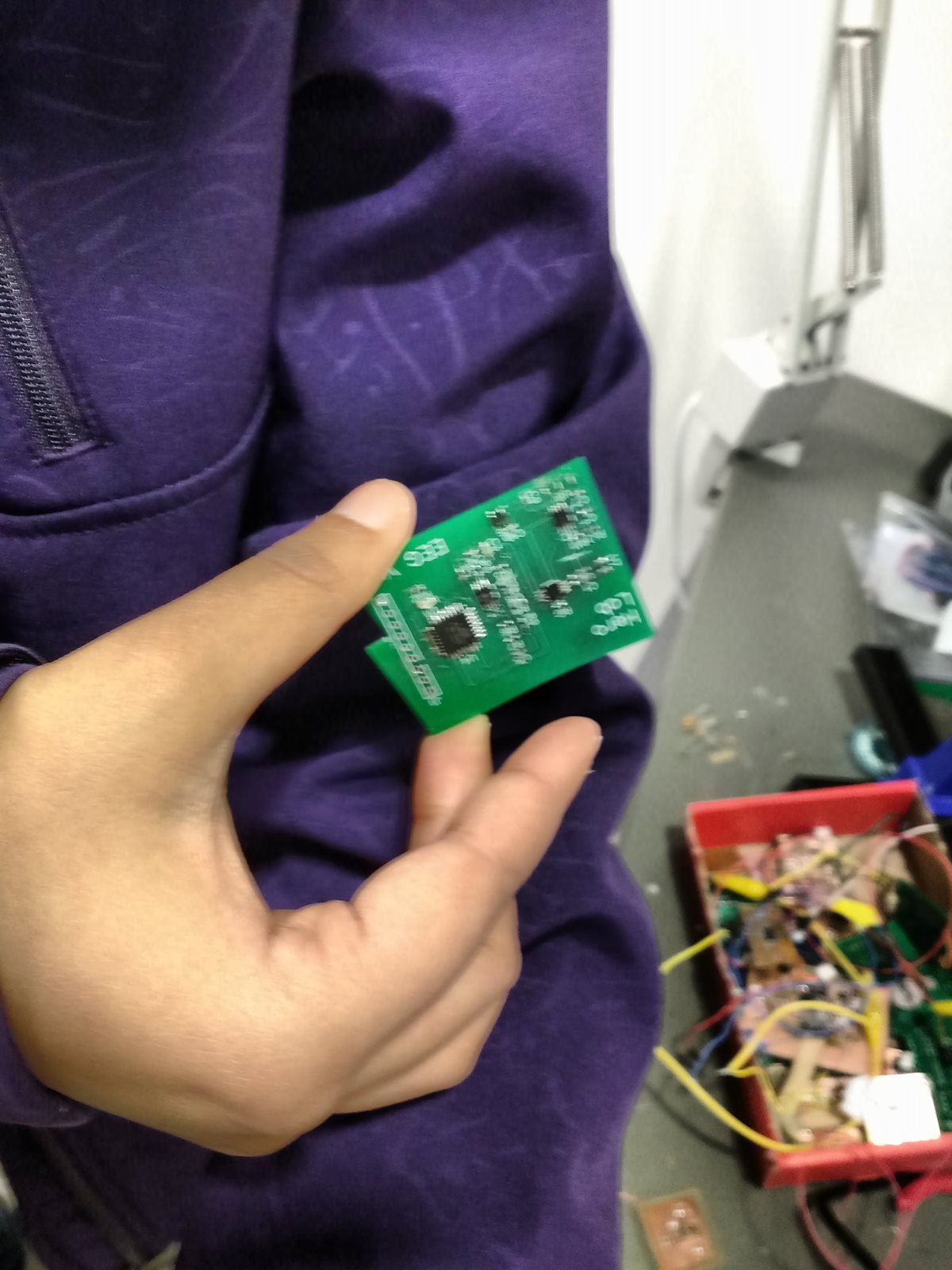 That idea has been around for some time, and the sensor technology is in hand. The problems are making the device easily wearable, recording or sending the information via Bluetooth and – the hardest part Sharma is working on – developing an algorithm that can work for long periods of time and for different individuals. Currently such a blood pressure reading has to be recalibrated every hour or two.
"Eventually the aim is that a patient at home can collect these signals that can be sent to the hospital," says Sharma, who came from India in 2015 for immunotherapy treatment only available as a clinical trial at UCLA.
"I'm a relapsed Hodgkin lymphoma patient," says the slight 23-year-old with a soft voice. "Other options didn't work on me."
Sharma was able transfer to UW Bothell, which also works out because she has family in the area. Now, she's a frequent flier to Los Angeles every two weeks for a two-hour treatment, returning the same day.
Sharma connected with Cao at an undergraduate research fair.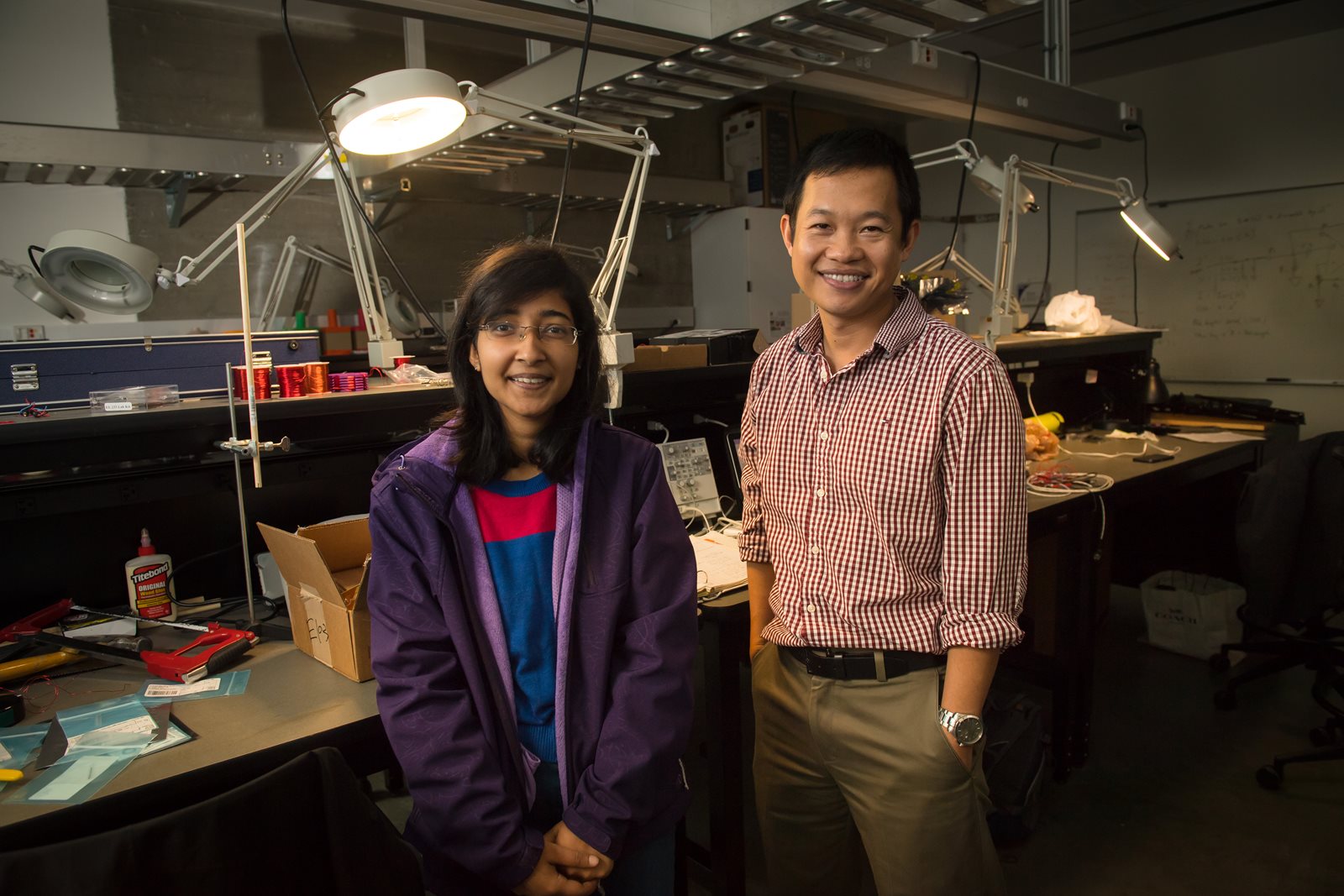 "He pushes me to do good work and is always inspiring, even if I don't get good results," she says.
Photo: Manuja Sharma and Hung Cao in lab (Marc Studer photos)
The blood pressure project involves many people and could have a huge impact, if the device is accurate and reliable, says Cao. He's confident Sharma can tackle the signal processing and optimization algorithm. He's also confident of her future.
"I really expect she will be a good scientist," he says. "To become a scientist, a professor. This is what I expect."