Chancellor Wolf Yeigh praised faculty who "open their hearts and minds" for students as he presented Distinguished Undergraduate Research and Creative Practice Mentor Awards to faculty members Brent Lagesse and Julie Shayne.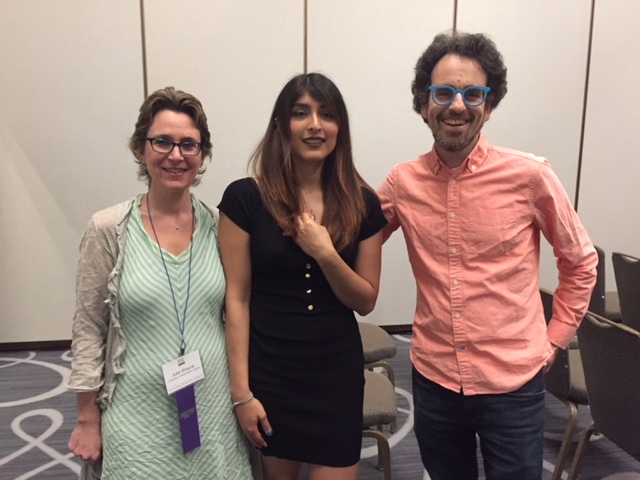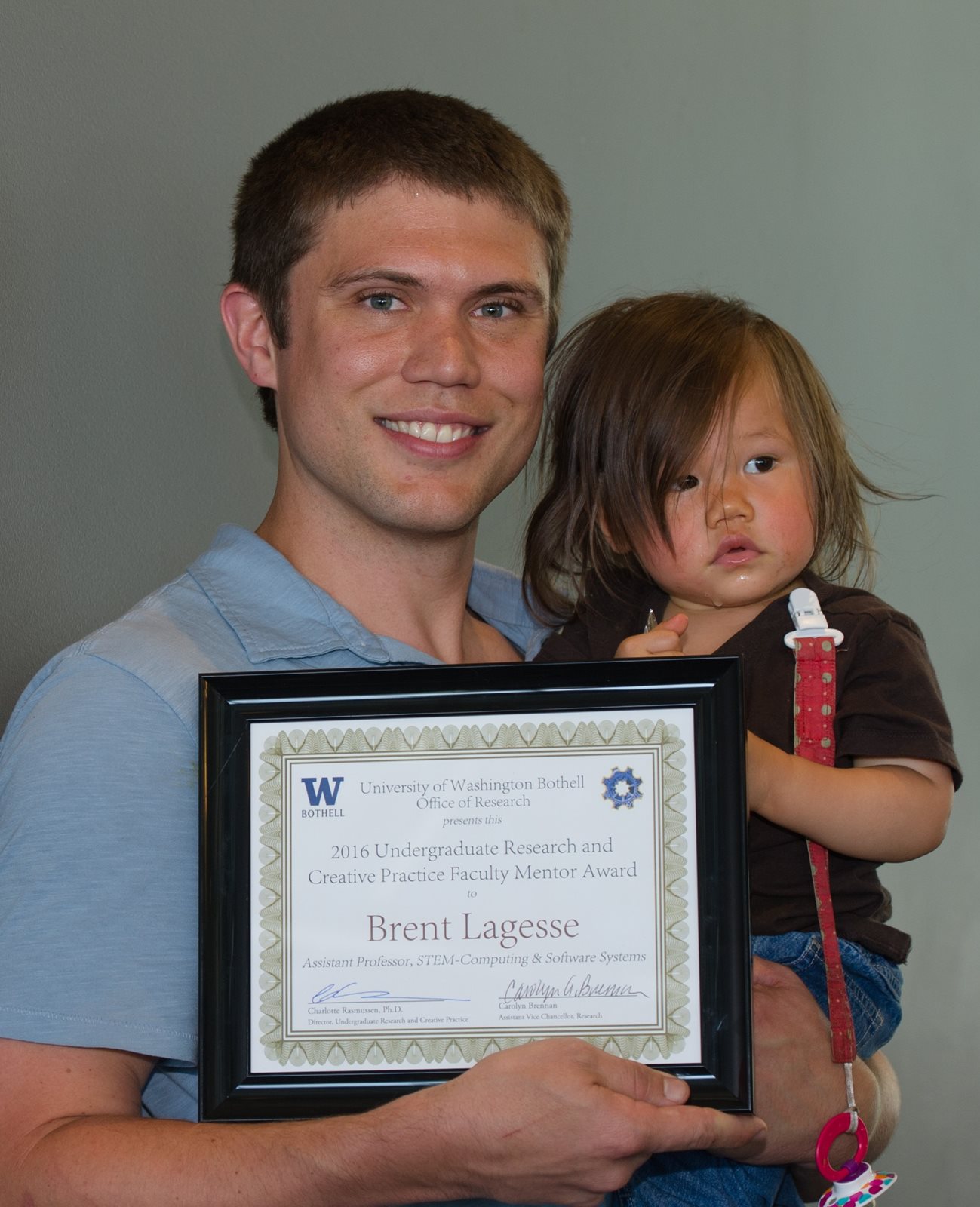 Yeigh presented the awards Friday at a reception following the Undergraduate Research and Creative Practice Symposium at the Activities and Recreation Center.

The mentor award goes to faculty members who exemplify UW Bothell's commitment to undergraduate research education. The award winners are nominated by students, faculty or staff. Each receives $2,000 to further their research.

"Part of the reason I wanted to come to University of Washington Bothell is I find undergraduate research extremely important," said Lagesse an assistant professor in the School of School of Science, Technology, Engineering and Mathematics, Computing and Software Systems Division.

An expert in cyber security, he engages students in his research on security in wireless communication systems, secure machine learning, secure electronic voting and cyber security education. He had his 15-month-old daughter Keira with him to help accept the award.
"I'm so honored," said Shayne, a senior lecturer in the School of Interdisciplinary Arts and Sciences and faculty coordinator for gender, women and sexuality studies. "It means the world to me. It's my passion."

Shayne was named as an influential instructor by four of the five, UW Bothell students honored in the inaugural Husky 100, a tri-campus selection of students who demonstrate passion, leadership and commitment.
Shayne wrote about her passion for mentoring undergrads in a blog post. Information about the Gender, Women & Sexuality Studies degree is detailed on its website.

The daylong symposium was a big event for dozens of undergraduate students sharing presentations and posters displaying their research and scholarship in all disciplines, including performing arts.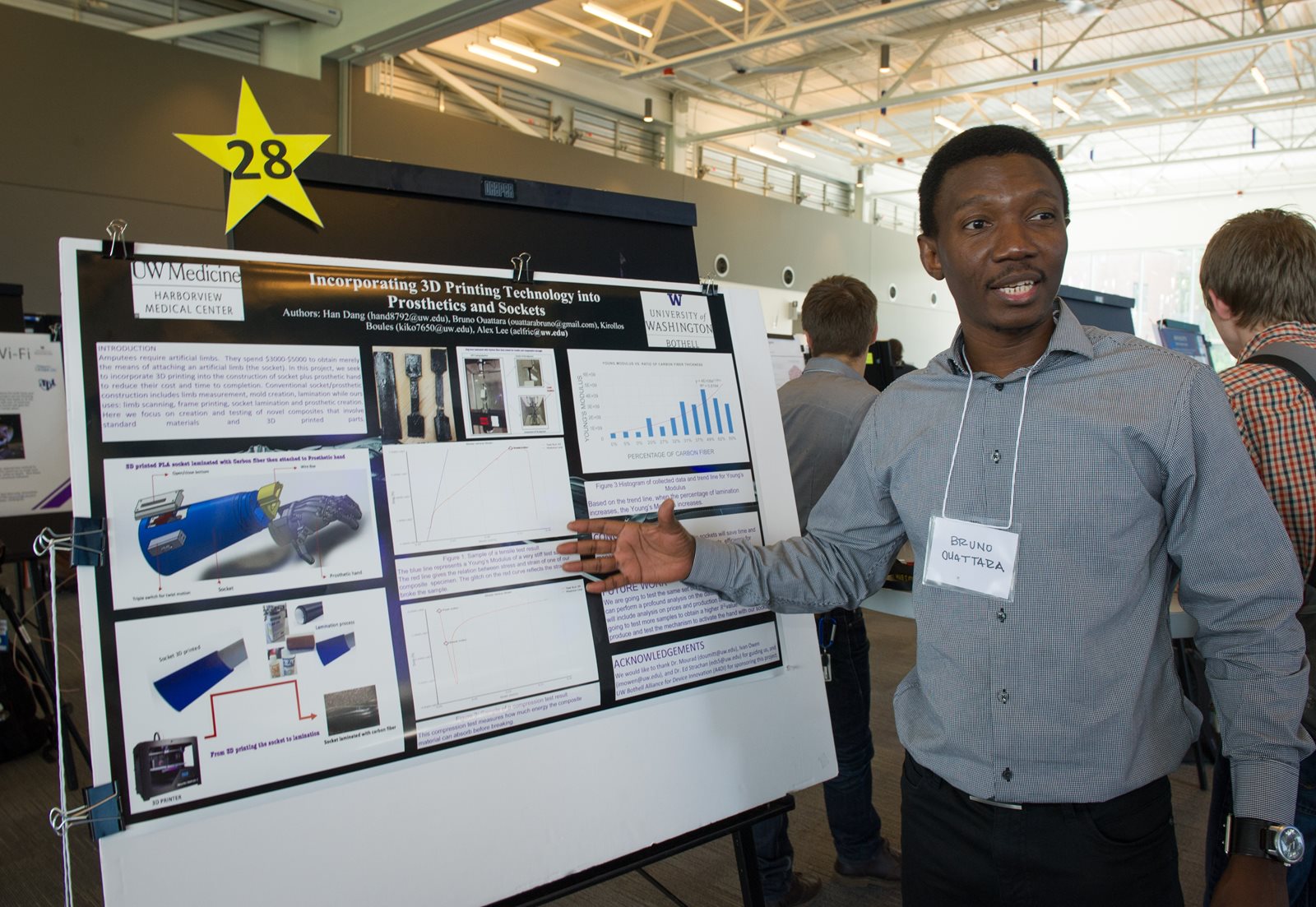 Photo: Bruno Ouattara presents prosthetic hand project. (Marc Studer photos)
The annual symposium is an exceptional learning experience and a celebration of the students' hard work, says Charlotte Rasmussen, director of undergraduate research.
Experiential learning is the hallmark of the University of Washington experience, said Chancellor Yeigh.