By Douglas Esser
Routine vision screening for school children will be changing as a result of a new law that resulted from a collaboration with University of Washington Bothell, advocates and legislators.

It's not just the "big E" eye chart anymore. Children will be screened for near-vision problems that experts say affect their ability to read, learn and succeed in life.

The bill signed into law April 1 by Gov. Jay Inslee simply adds near-vision screening to the routine eye test. The law grew out of the 2014 Vision and Learning Symposium, organized by UW Bothell Associate Professor Bill Erdly in the School of Science, Technology, Engineering and Mathematics.

The Snellen eye chart has the big E on top and rows of increasingly smaller letters. Erdly says it has been around since the American Civil War when it was used to help select marksmen. If you can read the fourth line from the bottom from 20 feet away, like the average person, you have 20-20 vision.

Distance vision testing using the wall chart has been required by the state Board of Health in kindergarten and grades 1, 2, 3 and 7. But children don't read a book or computer screen from 20 feet away. Erdly says the test fails to detect whether eyes work together, track properly, easily change focus, integrate peripheral vision or have other problems.

Erdly credits two child advocates, Helen Spencer, a Yakima lawyer, and Katie Johnson, a teacher, with bringing the near-vision issue to the University where a group of experts and legislators were convened to find a solution.

Photo: Erdly says a simple eye exercise is to maintain focus on an object such as a pencil as you move it near and away from your eyes.

The work has already begun to develop screening methods to identify children who need a referral to professional care.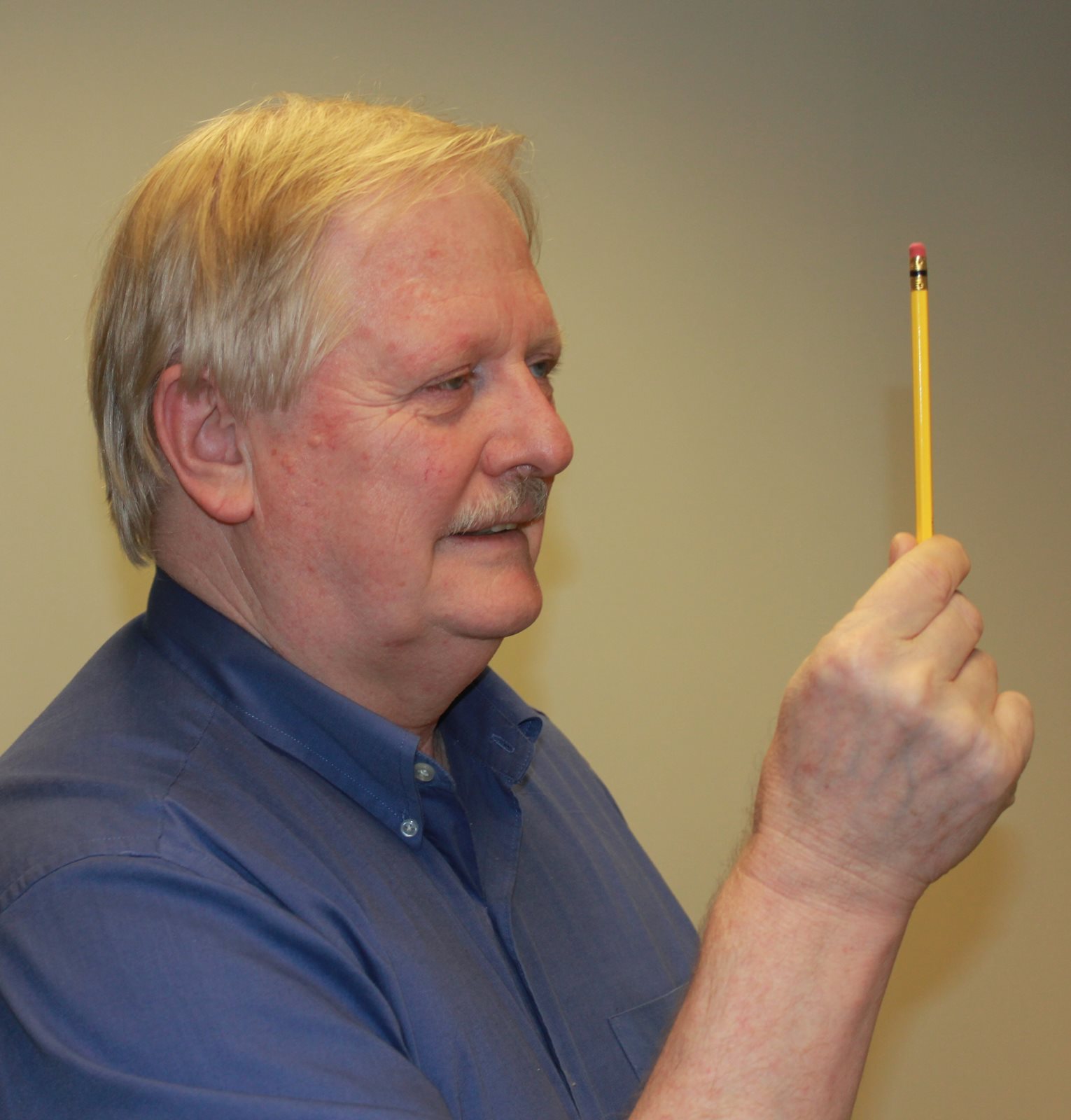 "We're actually working with optometrists to come up with the most low cost, effective and quickly deliverable set of screening tools that we can put together," Erdly said.
Erdly's students in Computing and Software Systems division are developing potential screening tools, including applications for mobile devices.
Early testing is key to preventing learning disabilities down the road," says the sponsor of the legislation,
Rep. Chad Magendanz
of Issaquah.
Magendanz cites studies that show a stunning correlation between low vision skills and illiteracy and even crime.
The legislation estimated it would cost school districts $3.87 per child each year for the additional screening, but Magendanz doubts it will be that costly.
"Considering how expensive it is to teach students who have vision deficits, practically every school district administrator and board member that I've met is shocked that this oversight hasn't been corrected," he said.
Many people have heard of "lazy eye" or amblyopia. Most also are aware of crossed eyes or strabismus. Other problems involve double vision, the binocular ability of eyes to work together, farsightedness and astigmatism.
Such problems were apparent to
King County Council member Kathy Lambert
when she worked as a teacher for 16 years before serving in the Legislature and council.
As a fifth-grade teacher in Monroe she noticed some children would hold their head sideways or put their head on an arm as they read. This happened fairly consistently in a group of low readers. When Lambert recommended vision testing to the parents and the kids returned with glasses, the difference was dramatic.
"After fifth grade a lot of them didn't need to be in the low group," she said.
Being in the low group in school is often the low road in life. Eighty percent of the inmates at the King County Juvenile Detention Facility screened from 2005 to 2008 had undetected vision problems, Lambert said.
Lambert says passing the near-vision law was a 17-year campaign. She says Washington is the fourth state to require this kind of testing, after Kentucky, Illinois and California.
The exact near-vision screening tests have yet to be determined, Erdly says. One part will likely be a document that children hold and focus on as they move it toward and away from their eyes. Another part may be a survey checklist that can be conducted on a phone or tablet, which also could be used to administer three or four brief screening exercises.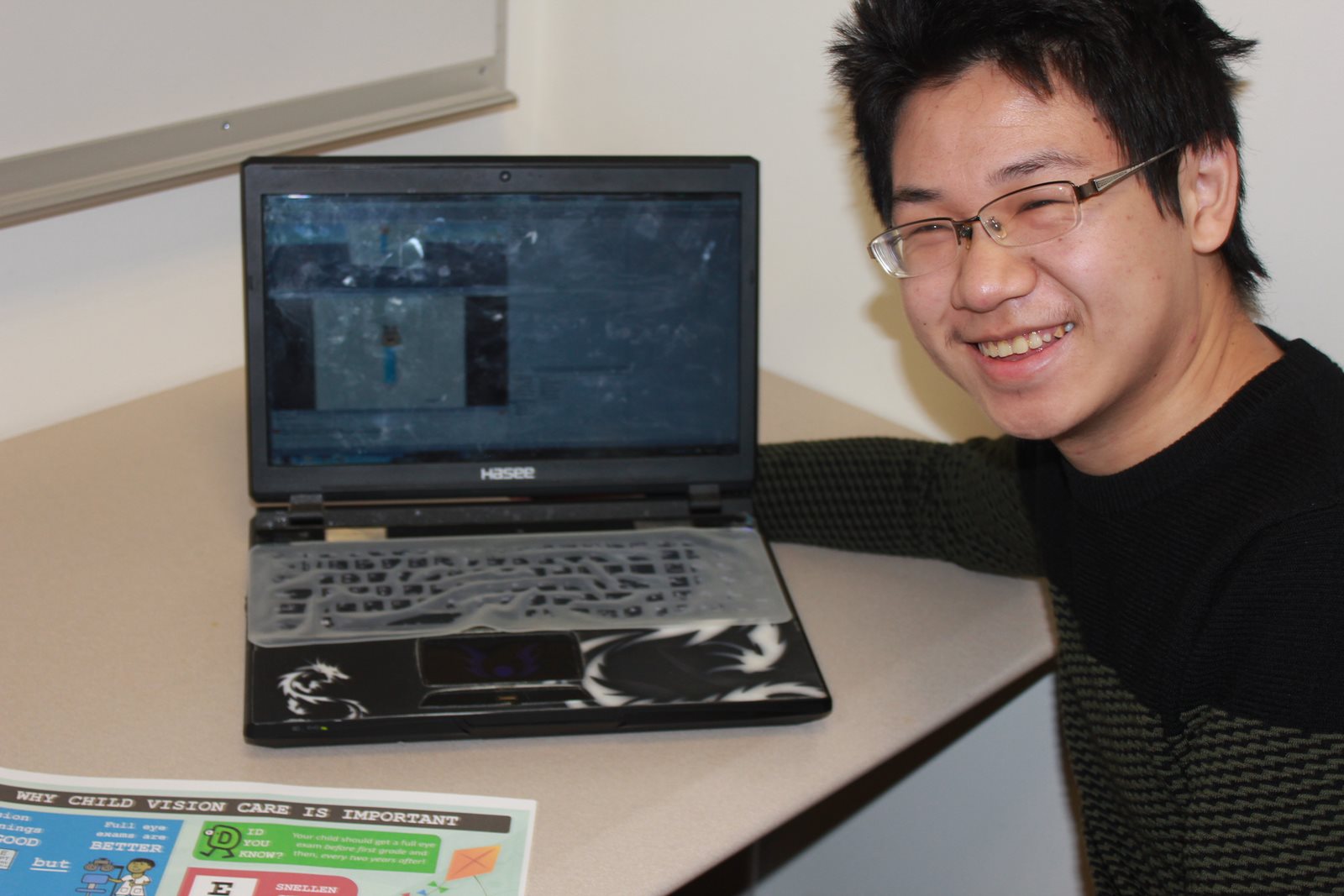 Huaming Chen, a graduate student in Computer Science and Software Engineering on track to graduate in spring 2017, has developed one computer game that tests the ability of a child to focus and identify shapes and colors. He sees a vast potential for the screening in his native China where the Snellen chart is also used in most vision testing.
Chen says near-vision problems likely exist in China but are not being addressed. If testing were endorsed by the Chinese government, the market for the screening procedure would be huge, he says.
Erdly also expects Chen and other students to develop more complex games that actually serve as vision therapy – "play that exercises eyes to improve their ability to read and do activities."
Vision therapy is about eyes, brain and the motor skills working together, he said.
"It's not just the eyes," Erdly says. "It's the eyes and the brain that have to be developed."
The first near-vision screening tests will likely be piloted this fall at some interested schools, Erdly says. A set of tests should be ready for review by vision experts and political leaders at the second Vision and Learning Symposium, set for Nov. 4-5 at UW Bothell. Register
here.
The co-sponsor is the Gemstone Foundation, a California-based not-for-profit that promotes visual efficiency for schools, corporations and individuals.
In the long term, Erdly is working to secure funding for a Center for Children's Vision at UW Bothell. The center would research near-vision problems, assess vision therapies and train and certify screeners.