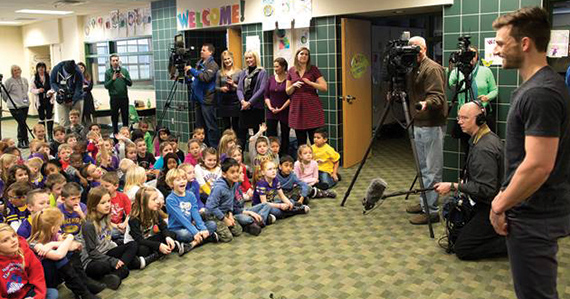 By Laura Mansfield
University of Washington Bothell alumna Judie Anderson Offerdahl made national headlines last week by using a pivotal missed field goal to teach her first-grade students a lesson on empathy. Offerdahl teaches at Northpoint Elementary School in Blaine, Minn. Read some of the stories here.
Offerdahl credits her professors at the University of Washington Bothell for teaching her to "know when to drop everything and embrace teachable moments." She found that moment after Minnesota Vikings kicker Blair Walsh missed a last-minute field goal that would have defeated the Seattle Seahawks and kept the Vikings' Super Bowl dreams alive. Walsh's miss incited widespread criticism and even death threats.
"I knew that Mr. Walsh probably felt horrible about it," said Offerdahl, a Seahawks fan. "I also knew it would be a good teachable moment for the kids."
Offerdahl had her students write letters of encouragement to Walsh. One letter read "to Blair Walsh, keep on trying – puppies are cute." Walsh has since visited the classroom to thank students for their kindness.
"Thanks so much for helping me be the teacher I am today"
In the midst of a flurry of national publicity following her classroom project, Offerdahl took time to recognize the teachers who influenced her. She holds two degrees from the University of Washington Bothell – a bachelor's degree from the School of Interdisciplinary Studies and a master's of education from the School of Educational Studies.
In a letter to faculty at UW Bothell, Offerdahl thanked them "giving me a solid foundation on how to facilitate learning for elementary students, and also for emphasizing that helping students build character and good citizenship is just as imperative as teaching the Three Rs. Without this, I'm sure this would not have happened."
School of Educational Studies Dean Brad Portin shared Offerdahl's letter with faculty, saying "this is just the kind of heart we so value in our graduates. Deepening humanity is as valuable as academic success."