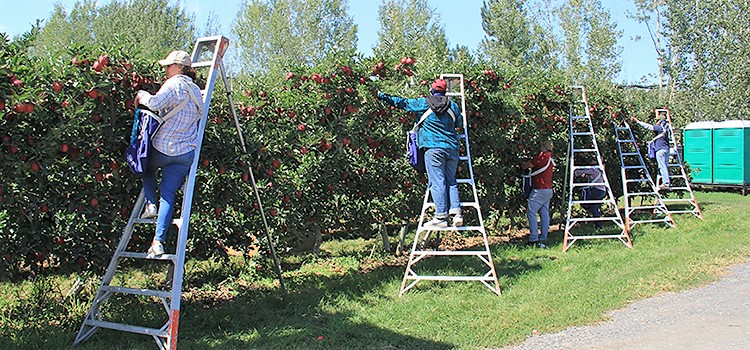 ¡Basta! Preventing Sexual Harassment in Agriculture, a program developed by the University of Washington's School of Nursing & Health Studies faculty with community partners and stakeholders, has received national recognition from the American Public Health Association.
The culturally tailored program received the association's Health Education Materials Award in the category of workplace training. "It represents the best of community-engaged program design and public health education," a reviewer said. The award was presented recently at the association's virtual annual meeting, which was timely in light of Domestic Violence Awareness Month and National Health Education Week, both in October.
Jody Early, an associate professor, and Victoria Breckwich Vásquez, an affiliate assistant professor, developed the program over six years of work with women farmworkers, human rights organizations and industry partners. It was launched in November 2019 by a team that included Dennise Drury, an outreach and education specialist at the Pacific Northwest Agricultural Safety and Health Center (PNASH) at the UW in Seattle, and Elizabeth Torres, research project coordinator for Proyecto Bienestar, a community health program within PNASH.
The name ¡Basta! ("enough!" in Spanish) comes from a poem written by a farmworker who had experienced sexual harassment and assault.
Multi-level approach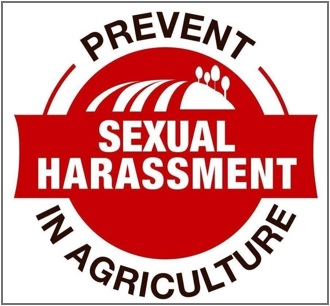 Directed at farmworkers, managers and owners, ¡Basta! features a 15-minute video with scenarios from farmworkers' actual experiences. They depict the personal, interpersonal and workplace impact of sexual harassment. A companion toolkit includes printed materials in Spanish and in English. The content covers how to report incidents, cultivate a workplace climate of respect and create a policy aligned with the Equal Employment Opportunity Commission.
A ¡Basta! training of 1 to 2 hours includes the video, toolkit and a facilitated discussion. "When we talk about preventing sexual harassment, education is not a cure-all, but research shows it matters," Early said. "We need to address how issues of power, racism, gender, immigration, patriarchy, socio-economic status and policy perpetuate it.
"The time invested in this training, as well as ongoing discussions and additional workplace strategies, will more effectively foster a climate where sexual harassment cannot thrive," Early said.
¡Basta! is managed by PNASH, which is located in the Department of Environmental & Occupational Health Sciences in the UW School of Public Health. "PNASH has used ¡Basta! to train hundreds of people across Washington," said Drury, who also is a graduate student in the department.
Trainings and toolkit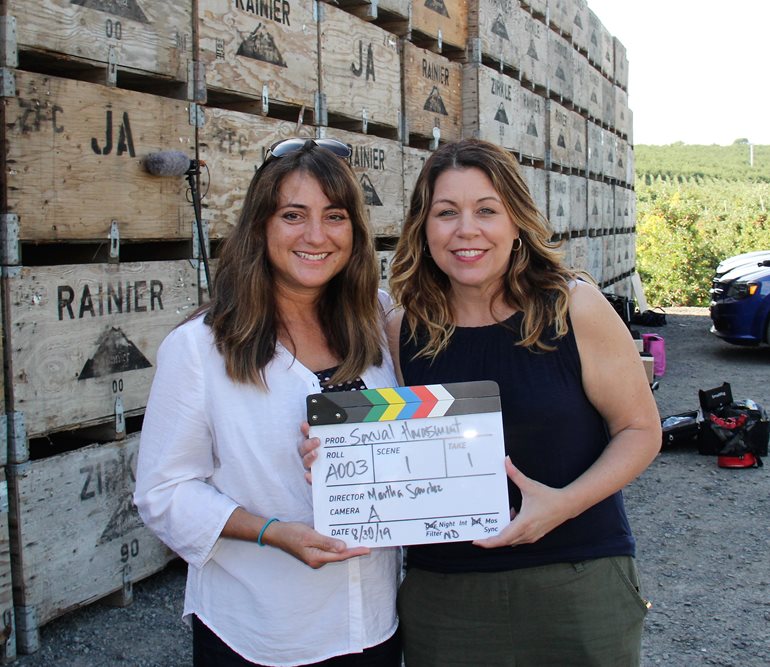 One of the biggest training sessions was a presentation to the Washington Growers League conference in February in Granger, in the farm-rich Yakima Valley of eastern Washington. Training sessions also have been conducted by the state Department of Labor & Industries, Washington State Tree Fruit Association, Washington Wine Industry Foundation and AgriSafe, a rural health network.
¡Basta! is the only such publicly available resource tailored to the agricultural industry that PNASH knows of, Drury said. "That's why there's been a lot of attention. There's nothing like this for free for employers to use."
A peer-to-peer training initiative, led by Breckwich Vásquez, is currently in development with funding from the Washington State Coalition Against Domestic Violence. Breckwich Vásquez also is advocating for state policy changes through the Washington Coalition to Eliminate Farmworker Sexual Harassment, which she founded and co-leads.
"In Washington state, there is no law mandating sexual harassment training in the agricultural sector, and farmworkers are limited to legal remedies only if they report the harassment," Breckwich Vásquez said.
Next, a graphic novella
A new addition to the toolkit will be a Spanish/English graphic novella co-written by Early and an advisory team of farmworker women from Proyecto Bienestar. Illustrated by Seattle artist Myra Lara, it is expected to be published in December.
"Based on actual cases in Washington state, we are using story and art to encourage richer and more authentic conversations around sexual harassment and to extend these conversations beyond the workplace" Early said.
Funding for the novella comes from the UW Center for Communication, Difference and Equity, and the Washington State Coalition Against Domestic Violence. Printed copies will be distributed in clinics, libraries and churches to reach people beyond agriculture.
Progress
Even without a legal requirement, some industry stakeholders have begun to implement sexual harassment prevention training, Early said.
"An increasing number of growers understand that this is a serious issue which affects worker safety as well as their bottom line and reputation," Early said. "Because of the history of agriculture, it hasn't always been easy to get buy-in, but we've been lucky to find and partner with innovators who care about the health of their employees and about cultivating a respectful and supportive work environment."
Progress is being made in increasing industry and government recognition of sexual harassment as a workplace health and safety issue, Early said.
"Our vision is to extend this work and to expand our partnerships and our reach."