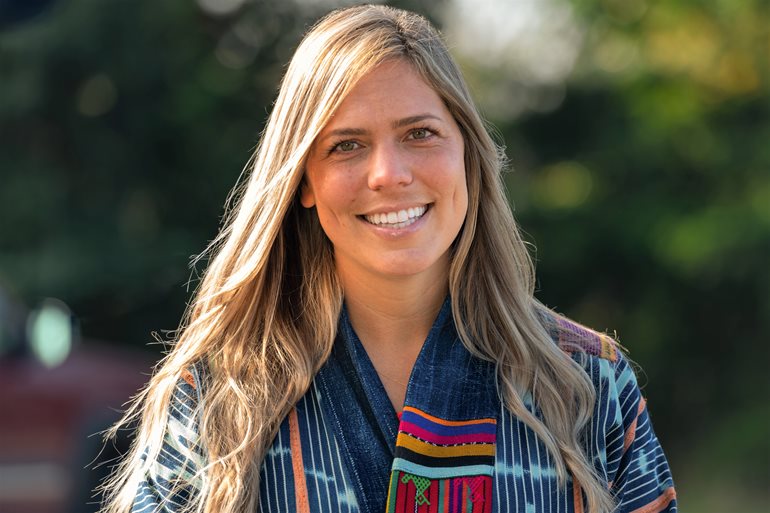 By Douglas Esser
Growing up in Mount Vernon, Miriam Witt wanted to become a teacher. Her mother was a teacher, and she had grandparents who were teachers.
She changed her career goal the summer after graduating from high school when her mother took her and her sister to Kenya to volunteer at an orphanage for children with HIV and AIDS. Watching doctors and nurses caring for them, "I thought to myself, that's what I want to do."
Nursing trumped education — for a while.
Two passions in one job
Back home from Kenya, Witt enrolled in the RN program at Skagit Valley College. She began nursing at Skagit Valley Hospital, caring for surgery and cancer patients. She expanded her knowledge and career options with the RN to BSN program at the University of Washington Bothell, graduating in 2014.
The program fit her work schedule with a mix of online and face-to-face classes with faculty, she said. "They turned into family and support. It was a really great experience."
Inspired by her trip to Kenya, Witt has still found time to volunteer with medical nonprofits that send humanitarian teams to help the victims of disasters and wars around the world.
Witt also discovered that she never lost her desire to become a teacher, so she started teaching clinical nursing as an adjunct instructor at Skagit Valley College.
"It didn't feel like work when I was teaching students. It was fun — easy to jump out of bed in the morning," Witt said. "That's what led me to want my master's."
Witt is now scheduled to enter the MN program next fall at UW Bothell's School of Nursing & Health Studies. An MN will qualify her to become a full-time instructor at the college in Mount Vernon.
"Teaching is a way of blending both passions into one job," she said.
And yes, she still intends to work part-time at Skagit Valley Hospital and to continue volunteering with international nonprofits, as her schedule permits.
Nepal, Syria, Venezuela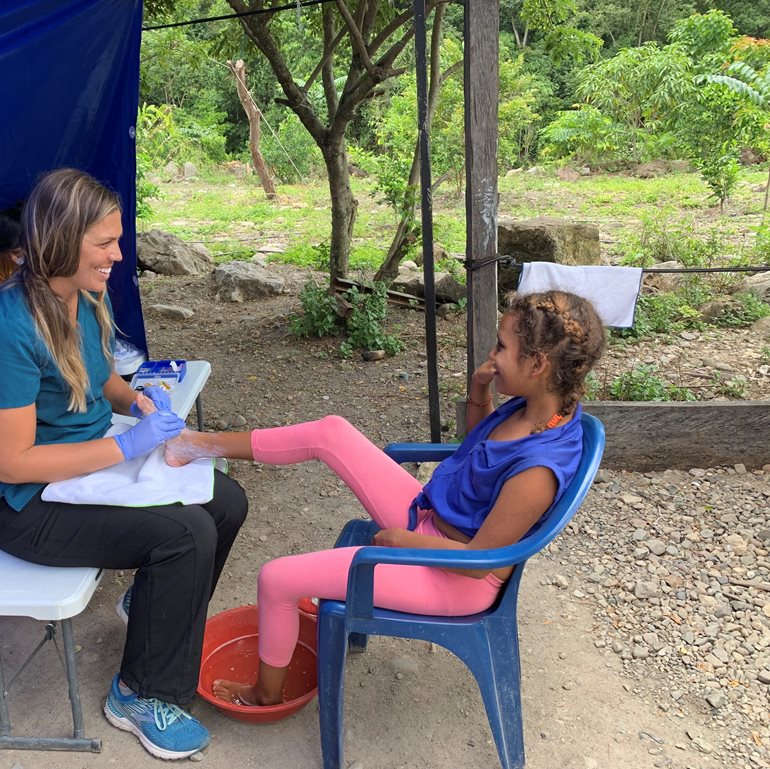 In 2015, Witt twice traveled with Clarion Global Response to Nepal after earthquakes. She helped treat injured people and brought food, drinking water and basic medical supplies to rural villages.
"I felt I received so much more than I was able to give," Witt said. "Families who lost everything also expressed that they had everything, having their family. It really instilled the importance for me of maintaining connections I have with my family, my support network. I'm able to get through difficult times, too, having that connection."
In 2017, Witt traveled with the Syrian American Medical Society to Jordan to help at a hospital and camp for Syrian refugees. She assisted a team performing plastic surgery for bomb victims and helped provide care for people with diseases such as diabetes and high blood pressure.
At a crowded refugee camp, she met a woman — also named Miriam — who had two children and needed help. "I thought to myself, this could be me."
As an aid worker, she was limited in what she could do to help. "So much of nursing is meeting people where they're at right now and doing what we can with what we have at the moment."
Last June, Witt traveled with Third Wave Volunteers to Colombia to help people driven over the border from Venezuela because of its economic crisis. They were hurting from the lack of clean drinking water, electricity and affordable food.
"The Venezuelan humanitarian crisis started and continues. The Syrian war started and continues," said Witt. "It seems like there are more and more wars and disasters that keep happening without them ending. So, there is a huge need."
Sharing a human experience
Whether she's helping a cancer patient in Mount Vernon or a refugee somewhere in the world, Witt has not allowed her patients' circumstances to darken her ability to smile.
"My perspective is, as long as I can be there for my patients, and learn from that experience together, that's what life is all about."