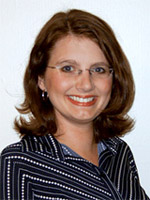 By Douglas Esser
A University of Washington Bothell senior lecturer designed and also helps teach an online program in chemical stewardship that has been endorsed by the "father of green chemistry," Yale Professor Paul Anastas.

Grace Lasker, who teaches in the School of Nursing & Health Studies, is an online course developer who created the Green Chemistry and Chemical Stewardship program offered through the University of Washington's Professional & Continuing Education (PCE).

The yearlong program, with one class each quarter, leads to a post-baccalaureate certificate. It's designed for industry professionals interested in applying principals of alternative chemistry: chemists, engineers, sustainability officers and managers concerned about product stewardship.

Anastas, the director of Yale's Center for Green Chemistry and Green Engineering, is on the advisory board for the UW certificate. Green chemistry means designing safer chemicals before they are created and released into the environment.

"These perspectives are the new thinking around chemicals, materials and quite frankly innovation," Anastas says in his endorsement. "This set of classes is going to allow you to have the perspective where you can know what's possible, what comes next and what tomorrow looks like."

Lasker, who also is a certified nutritionist and certified health education specialist, is excited at how the certificate program was welcomed by the continuing education program.

"We're equally excited and glad to have Grace," says McKay Caruthers, PCE assistant director. "She has been a major force in developing the program, not only as an instructor, but she also is the instructional designer."

The program is a partnership of the University of Washington's Department of Environmental & Occupational Health Science (DEOHS) where Lasker is affiliate faculty, Yale and PCE, which provide the online platform, enrollment and marketing.

It's a great partnerships because the University of Washington has the experts in toxicology and Yale is the place for green chemistry, with Anastas providing recorded and live lectures, Caruthers says.

Lasker teaches the first quarter class, Sustainability, Toxicology and Human Health to provide the background on human and environmental health. Lasker, who joined UW Bothell in 2015, has a full teaching load on campus of about 250 students a year, including lectures to first year students on chronic toxicity and nutrition.The second quarter online class is Principles of Green Chemistry, designing safer chemicals. The third quarter class is Assessment Tools for Safer Chemical decisions.

"One reason the program is important is toxicologists have not been chemical designers, and chemical engineers have not been too well trained in toxicology," Caruthers says. "The push for green chemistry is an attempt to break down that barrier and have people look at both things at once."

This is the only program that puts it all together in one place, Caruthers says. "We suspect it won't be that last."

The Department of Environmental & Occupational Health Science's director of continuing education, Nancy Simcox, also was a key person in crating the program with support from David Kalman, a professor in DEOHS, and Michael Yost, chair of that department, Caruthers says.

PCE offers about 130 certificate programs and more than 80 master's programs aimed at working professionals.